lady jane mango recipe
breakfast mango parfait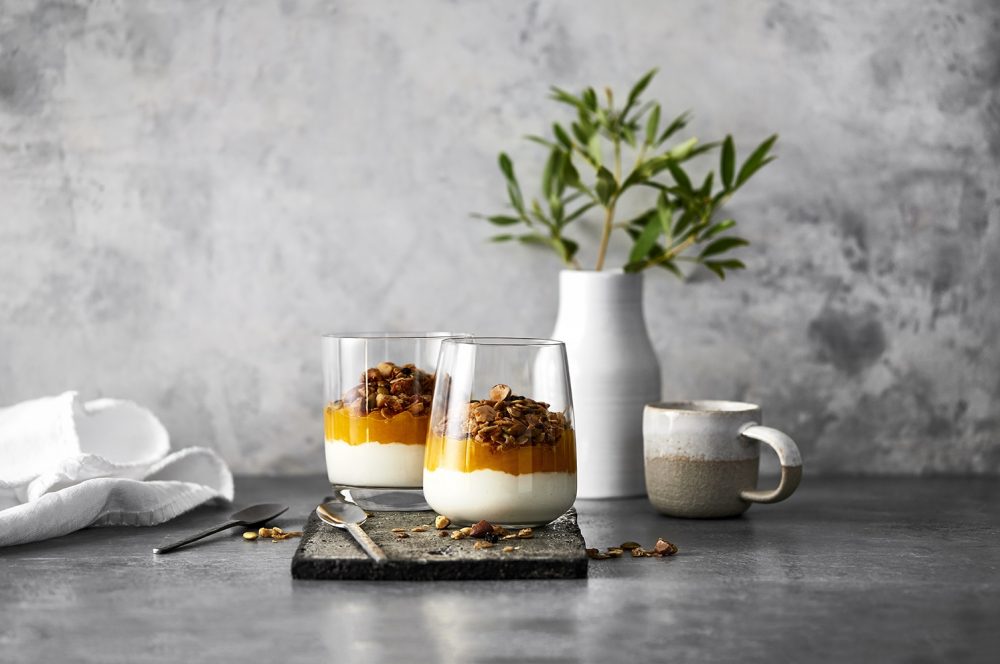 GRANOLA
3 cups oats
1/2 cup each pepitas, macadamias, almonds
1/2 cup chopped pitted dates
1/2 cup currants
1/4 cup light olive oil
2 Tbsp maple syrup
1 tsp vanilla essence
1/2 tsp cinnamon
1/4 tsp cardamom
1/8 tsp salt
MANGO COMPOTE
1 Lady Jane mango, peeled, seeded and chopped finely
1 lime juiced
1 Tbsp caster sugar

Vanilla yoghurt (store-bought)
To make granola: Preheat oven to 180⁰C. Combine all granola ingredients except for currants and spread out in a layer in a baking dish lined with baking paper. Place in oven and bake for 35 minutes stirring the granola every ten minutes for even cooking (be sure to keep an eye on the granola in the last 5 minutes of baking because it browns very quickly during this time). In the last 5 minutes, add the currants and stir through.
Variation: finely chopped dried apricots or dried cranberries, sunflower seeds, chopped peanuts or chopped cashews works well.
To make compote: Place mango, lime juice and caster sugar in a heavy based saucepan. Bring to the boil, stirring for 5-6 minutes until thickened. The compote should have a lightly jammy consistency when ready. Allow to cool.

To assemble: In a small glass or bowl layer the parfait starting with the yoghurt, then mango compote, granola and top with a dollop more of yoghurt.