Lady Jane Mango Recipe
Tangy Mango Lemon Curd Slice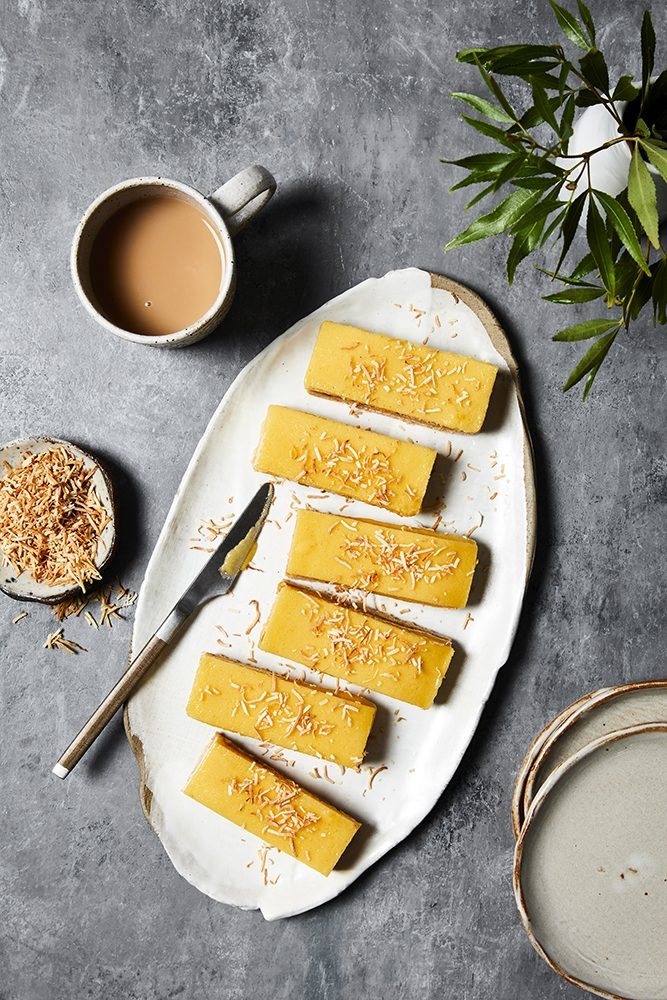 BASE
100 grams butter softened
½ cup raw sugar
1 tsp vanilla essence
1 cup gluten free plain flour
½ cup almond meal
½ cup desiccated coconut
Rind of one lemon
MANGO CURD
4 eggs
1 Lady Jane mango, skin and seed removed, pureed in a blender.
Juice of 4 lemons
1½ cups caster sugar
1 cup gluten free plain flour, sifted
Preheat oven to bake at 180⁰C. Line a 20cm square baking dish with baking paper.

To make the base: Cream the butter and sugar. Add vanilla, flour, almond meal, coconut and lemon rind. Combine to make a sticky ball of dough.
Press into baking dish. Bake for 25 mins and allow to cool before pouring in the curd.
To make the mango curd: Whisk the eggs in a bowl. Add the mango puree, lemon juice, sugar and flour, and mix to combine.
Pour over the cooled biscuit base. Bake for 25 minutes until the top has only a very slight bit of movement left in the middle, it should have some slight bubbles and browning to the top.
Allow to cool then set in the fridge. Cut into slices to serve. Can be decorated with toasted shredded coconut if desired.